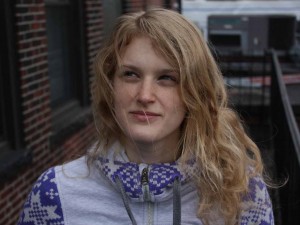 Hello.  My name is Sandy Kalik.
I'm a registered yoga instructor, a Thai-style bodywork practitioner, and a social communicator. Basically, I'm a passionate individual that likes to learn and share.  Over the years, I've found myself in a number of roles ranging from archaeology student to independent marketing contractor. Today, I am blessed to be a full-time yoga instructor in the Greater Boston area, offering group and private yoga asana and meditation instruction, as well as Thai-style bodywork.
I found my dedicated yoga practice in a moment of transition. Moving in and out of stressful work situations, yoga became a way to be physically present, to slow down, to feel. While learning to manage stress, I discovered asana and meditation also provided support for my physical body through the day-to-day experience of rheumatoid arthritis. Since then, the practice has grown from a home for calm and physical ease to a space of exploration and even play.
Learning has always been a constant. I am grateful to study and now happy to share AcroYoga, vinyasa, Meridan, power, yin, restful and restorative yoga styles. I have completed teacher trainings in vinyasa with Daniel Orlansky's Yoga of Energy Flow (500-hour), AcroYoga (Level 1), and Prana Power Yoga (200-hour). My ongoing study and practice of Thai-style bodywork informs not only how I see the physical, but also the energetic one as well. My classes are known for creative sequencing, making alignment accessible and providing a safe space for play, silence and exploration.
Education
Life is continuing education.  But as for formalized programs, here's the brief history:
AcroYoga – Level 1 Teacher Training – August 2012
Om Sala – Chi Nei Tsang – January 2012
Sunshine Network – Felicity Joy's Sen Line Theory and Therapy – January 2012
Lek Chaiya School of Nerve Touch – Advanced Nerve Touch Level 1 & 2 – December 2011 – January 2012
Triple Gem Thai Massage School – Level 2 Thai Massage – September 2011
AcroYoga – Acrobatics Immersion – September 2011
Triple Gem Thai Massage School – Level 1 Thai Massage – May 2011
AcroYoga – Theraputics Immersion – December 2010
Yoga of Energy Flow – 500 hour teacher training – September 2010 to September 2012
Prana Power Yoga – 200 hour teacher training – May 2009
Boston University's College of Communication – B.S. in Public Relations – May 2007
Boston University's College of Arts & Sciences – B.A. in Archaeology – May 2007
Teachers
If the College of Communication taught me anything, it was to always cite your sources.  I am grateful for my teachers, particularly those who have become friends over the years.  In no particular order, these folks have contributed to my knowledge of the body and the practice and how I teach; Ana Forrest (www.ForrestYoga.com), Ellen Heed, Rolf Gates, Taylor & Philippe Wells (www.PranaPowerYoga.com), Alex Amorosi, Sue Jones (www.yogaHOPE.org), Daniel Orlansky (www.YogaofEnergyFlow.com), Bonnie Argo and Pat Donaher.