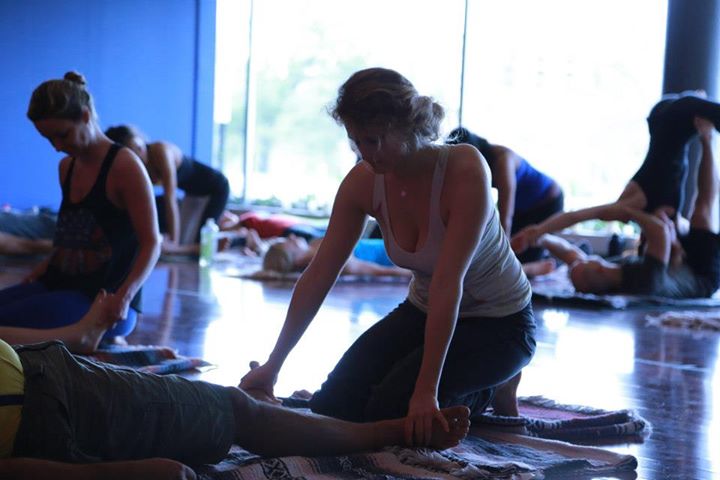 at Banyan Tree Yoga, Nashua, NH
An ancient form of bodywork rooted in Buddhist principles, Thai Yoga Massage practitioners bring metta (loving-kindness) and meditation into hands on healing. In this 16-hour training, participants will learn the foundations of Thai-style bodywork, including basic body positions, foundations of Thai touch, and how to cultivate a deep listening into hands, feet, elbows and thumbs.
The training is split into four four-hour segments.  Each session will include a yoga practice geared towards Thai-style movement and  metta-based meditation.  The curriculum will offer a basic sequence from the main body positions of the receiver: supine (on back), prone (on belly), sidelying and seated.  Covering one position per session, the students will in the end build towards a two- to three- hour long treatment to offer friends, yoga students or clients.
Sandy Kalik is an E-RYT 500, so this training can be counted towards Yoga Alliance continuing education contact hour requirements.  After discovering the practice through AcroYoga, she has studied Thai Yoga Massage with a number of teachers in the US and Thailand.  This course will synthesize years of training in a practice that can be studied and built upon for a lifetime.
Cost: $325 pre-registration / $350 after August 16th
Please register via Banyan Tree's MindBodyOnline site (you'll need to scroll down the workshops tab).
Dates: Saturdays, September 13th & 27th, October 25th and November 8th – 3pm-7pm
Module 1: September 13th

Module 2: September 27th

Module 3: October 25th

Module 4: November 8th

*Google calendar doesn't allow you to make a multi-day event, so you'll have to add each module to your calendar separately.