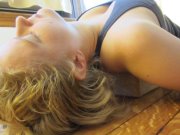 Blending the ease of restorative yoga with the mindfulness practices of yin yoga, this Restful Yoga teacher training / weekend intensive will present teachers and advanced practitioners with the softer side of the asana practice.  This 16-hour training will include guided meditation, multiple led restful yoga practices, a pose by pose break down of restorative asana, considerations for sequencing, as well as philosophical and spiritual perspectives.  Participants will leave with a manual of topics covered and an understanding of how to share restful yoga.
*Participants can submit the contact hours from this training towards continuing education credits through Yoga Alliance.
Cost: $300 (pre-registration) / $360 (after December 15th, 2016)
Payment is through the Breathing Room website.
Date: Saturday, January 14th, 8:30am-8:30pm and Sunday, January 15th, 8:30am-5:30pm
Parking: The Green Street Lot is the most reliable place for long term parking in Central Square (260 Green St, Cambridge, MA 02139)